With COVID-19 cases in New Jersey spiking as the fall quickly turns into winter, the New Jersey State Interscholastic Athletic Association (NJSIAA) has officially made changes to the winter sports season.
Competition in all winter sports, which includes basketball, wrestling, ice hockey, indoor track, swimming and bowling were set to begin on Dec. 21. That is now not the case — high school sports will resume after calendars turn over to 2021.
Here are the official and final changes, per an NJSIAA news release Thursday morning:
Season 2
Ice Hockey will be the first sport to start in the winter. Practices will commence on Dec. 14 and the competition will officially last from Jan. 4, 2021 to Feb. 17.
Basketball, Fencing and Bowling can start practicing on Jan. 11 with games set to last from Jan. 26 to March 6.
Season 2A
Swimming and Winter Track & Field may begin practices on Feb. 1. That season will last from Feb. 16 to March 27.
Season 3
The big change here is for wrestling, which has been moved from the winter to the late winter/early spring. Teams can get onto the mats on March 1 for their first practices. The season will last from March 16 to April 24.
That same timeline – March 16 to April 24 – will be the same timeline for both gymnastics and girls volleyball.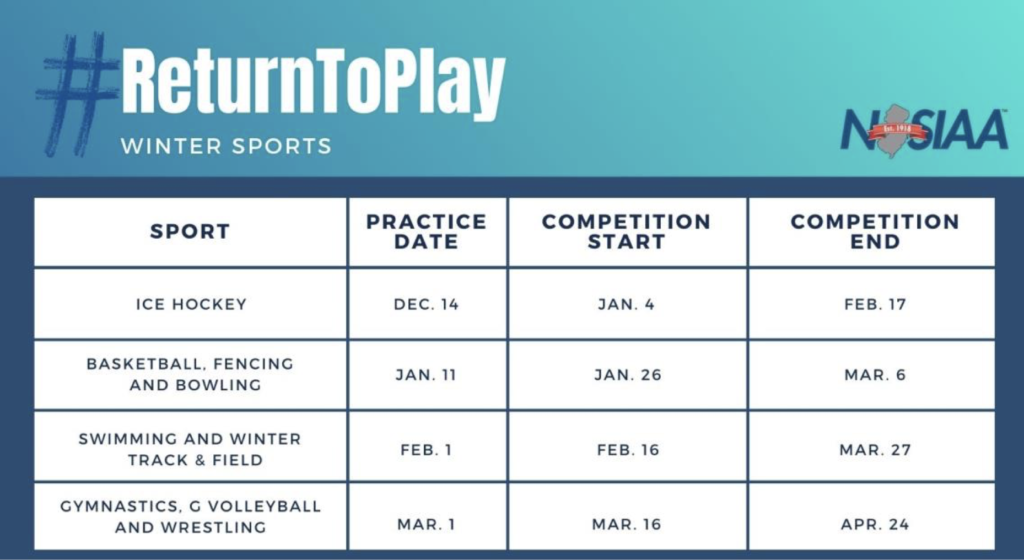 ---
Other News and Notes
Gov. Phil Murphy's Executive Order 196 (which restricts the number of people at indoor events) will go into effect on Nov. 23. Per the NJSIAA, indoor practices and competitions are limited to 10 persons, however, if the number of individuals who are necessary for the practice or competition, such as players, coaches, and referees, is greater than 10 persons, the practice or competition may proceed. If this exception applies, the number of individuals still may not exceed 25 percent of the capacity of the room in which it takes place, or 150 persons, whichever is less. Practically speaking, this means that spectators are prohibited."
There will be no NJSIAA sponsored state postseasons for sports in Seasons 2 and 2A, yet individual conferences can hold their own tournaments.
The state athletic association said itself and its member schools are still determining "what may be the best format for post season play," for Season 3. It's unknown whether or not there will be an individual wrestling state tournament. Season 3 sports have to conclude no later than April 24, 2021.
Bowling is the only sport allowed to have more than two teams in any venue.
New Jersey teams are prohibited from playing any out-of-state competition, whether its inside or outside of state lines.
Teams will be permitted to play up to three games per week with no more than 15 total during the season.
The NJSIAA will announce plans for Season 4 (lacrosse, baseball, softball, outdoor track & field) no later than Dec. 11, 2020.
---