Saint Rose's Kyle Missry launches a solo blast into the left field seats at the Phillies Citizens Bank Park to give Jersey Shore a 6-5 win over Delaware County to advance to the Carpenter Cup Finals.  SSZ has full highlights and post-game reaction from Philadelphia
PHILADELPHIA – Saint Rose's Kyle Missry was 2-2 with 2 RBI's highlighted by a solo blast to left field in the 10th inning to get the Jersey Shore back in the championship game of the Carpenter Cup with a 6-5 extra innings win over Delaware County.  Missry put the Jersey Shore in front 5-4 with an RBI single in the 7th inning, but Colts Neck's Chris Murphy uncorked a wild pitch in the 8th to make it a 5-5 game.  Missry led off the 10th and deposited the second pitch he saw into the flower beds in left field.  Murphy settled down and picked up the win recording a strikeout to end the game.  Watch all the highlights here:
Carpenter Cup Finals
Tuesday, 10am at Phillies Citizens Bank Park
SOL/National Bicentennial vs. Jersey Shore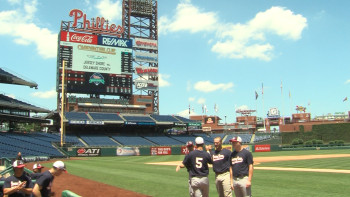 The Carpenter Cup is a 16 team high school All-Star tournament featuring teams from Philadelphia, Delaware and New Jersey.  The Jersey Shore is the defending tournament champion.  SSZ will have full highlights of the title game.