Jersey Sports Zone is proud to salute our All-State selections. We have video highlights of every JSZ All-Zone selection and celebrate Millville's LeQuint Allen as the 2021 JSZ Zoneman Trophy winner
---
LeQuint Allen wins 2021 JSZ Zoneman Trophy
It was a celebration on a few different levels for Millville's LeQuint Allen on Dec. 17. He was awarded the 2021 Zoneman Trophy, Jersey Sports Zone's honor for the top player in New Jersey. Allen rushed for nearly 2,000 yards, scored 26 touchdowns, and made over 120 tackles on defense for the Thunderbolts this fall. JSZ was able to present Allen with the hardware during a signing celebration. Allen officially signed with Syracuse University on Wednesday, but family, friends, coaches and teammates were on hand on Friday to celebrate the achievement.
Watch JSZ's coverage of Allen's big day: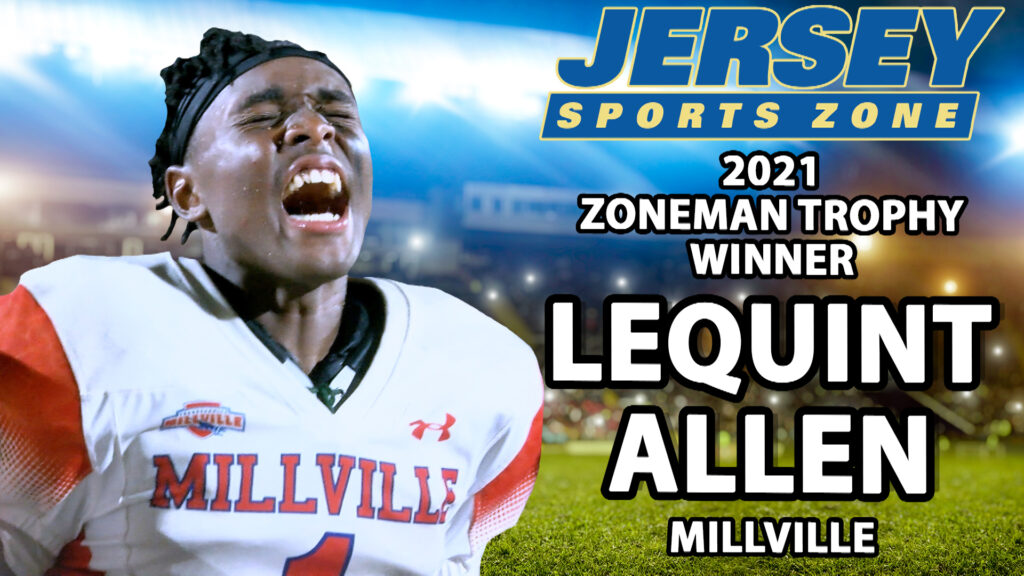 ---
Zoneman Voting Breakdown
It was the largest ballot (seven players) in the history of the award, as well as the closest final tally in voting history. JSZ polled 92 coaches + 31 media members to collect 123 total ballots. The ballots were collected equally from all parts of the state.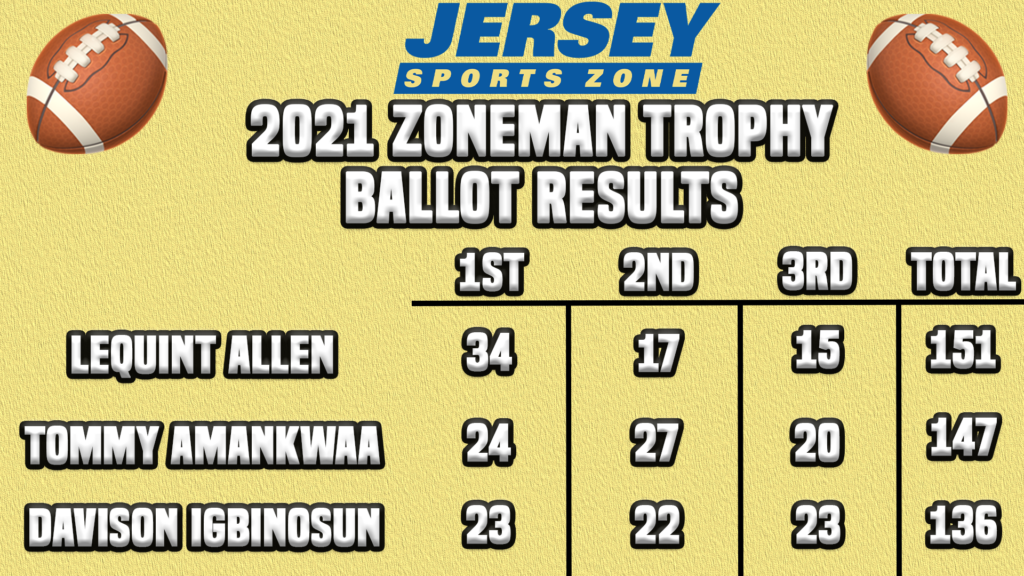 Voting Coaches
John Hack, Morris Catholic | Ashley "Smoke" Pierre, Irvington | Steve Dunn, Rutherford | Nick Campanile, DePaul | Dan Marangi, St. Joe's (Mont.) | Dan Sabella, Don Bosco | Todd Smith, Hun | Mike Cipot, North Brunswick | Ryan Fullen, Hightstown | Jason Glezmen, Keyport | Jay Graber, Matawan | Frank Duffy, Phillipsburg | Lou Zampella, Hudson Catholic | Anthony Lanzafama, Old Bridge | Jeff Rainess, Holmdel | Matt Ahearn, Colts Neck | AJ Russo, Holy Spirit | Montrey Wright, Salem | Jim Raso, Hammonton | John Emel, Penns Grove | Mike Schatzman, Washington Twp. | John Adams, Woodstown | Kevin Smith, Ocean City | Kenny Scott, Winslow Twp. | James Melody, Cedar Creek | Steve Scanlon, Clearview | Dennis Thomas, Millville | Chuck Smith, Mainland | Dallas Whitaker, Somerville | Brian Russo, Rahway | Jon Viotto, South Brunswick | Vin Mistretta, Jackson Memorial | Jim Sharples, Jackson Liberty | Jim Desarno, Westfield | Kevin Carty Jr., Hillsborough | Ralph Cinque, Clifton | James Magazine, Eastside | Brian Fitzgerald, Seton Hall Prep | Brian Bowers, Delbarton | Barris Grant, Hillside | Rich Hansen III, St. Peter's Prep | Len Zdanowicz, Brick Township | Albert Chiola, Linden | Andrew Patterson, Robbinsville | Shane Fallon, Red Bank Regional | Dom Gaston, Pope John | Chris Beagan, Sayreville | Joe LaSala, Woodbridge | Rich Hilliard, St. Joseph Metuchen | Benjie Wimberly, St. Joe-Montvale | Kevin Kostibos, Summit | John Bird, Keansburg | Roger Kotlarz, Wayne Valley | William Clark, Perth Amboy | Brian Wright, Timber Creek | Jason Morrell, West Deptford | Dominic Tomeo, Triton | William Hamilton, South Plainfield | Chet Parlavecchio, New Providence | Matthew Demarest, Passaic Tech | Anthony Petruzzi, Raritan | Rob Gogerty, Cedar Grove | Dominick Lepore, Manalapan | Rich Seubert, Watchung Hills | Joe Wojchekowski, Lenape | Lou Grasso, Union | Tim Gushue, Shawnee | Don Klein, Ocean Township | Nick Pulli, Gateway | Vito Campanile, Bergen Catholic | Ray Lucas, Harrison | Brian Staub, Point Pleasant Boro | J. Schulte, Rumson-Fair Haven | Tom Roarty, Colonia | Andy West, Ridge | Zoran Milich, Montgomery | Joe Passaro, Pingry | Dan Curcione, Donovan Catholic | Jon Simoneau, Bernards | Kevin Kley, North Hunterdon | Mike Lange, RBC | Darnell Grant, West Orange | Ken Loomis, Wildwood | Garrett Lucas, Delran | Milo McGuire, Nottingham | Drew Lachenmayer, Allentown | Chris Sacco, Absegami | Kevin Stetser, Egg Harbor Twp. | Sean Clancy, Notre Dame | Walt Currie, Brick Memorial | Mike Wilson, Schalick
Voting Media
Kevin Minnick, NJ Advance Media | Michael McGarry, Press of Atlantic City | Rich Chrampanis, JSZ | Ryan Patti, Rivals | Dave McCarthy, McCarthy Report | Jay Cook, JSZ | Tom Williams, Prime Events | Mike Frankel, JSZ | Nery Rodriguez, JSZ | Tom Horak, Max Preps/NJ Advance Media | Big Central Gridiron | Andrew Koob, NJ Advance Media | Shawn Brown, 247 Sports | Scott Faytok, NJ Advance Media | Jon Jones, Max Preps | Simeon Pincus, Gannett | Pat Rice, PJR Sports Report | Mike Pavlichko, Central Jersey Sports Radio | Ken Bradley, JSZ | Sean Miller, NJ Advance Media | Korbid Thompson, King James Radio | Bob Badders, Shore Sports Network | Marcus Borden, Gannett | Mark Trible, Glory Days | Todderick Hunt, NJ Advance Media | Pat Lanni, NJ Advance Media | James Mooney, JSZ | Steve Bassin, Gannett | Darron Wallace, JSZ | Chris Melvin, Asbury Park Press | Joe Zedalis, NJ Advance Media
[table id=226 /]
---
---
2021 JSZ All-Zone Non-Public Offense
[table id=222 /]
2021 JSZ All-Zone Non-Public Defense
[table id=223 /]
2021 JSZ All-Zone Public Offense
[table id=224 /]
2021 JSZ All-Zone Public Defense
[table id=225 /]
---
Meet The 2021 Zoneman Trophy Finalists
LeQuint Allen, Millville RB
The face of Millville football boasted an incredible level of physicality and athleticism throughout the entire 2021 season. LeQuint Allen ran wild against defenses from the start of the year in Ocean City until the end at Rutgers University, where the Thunderbolts capped off a 12-1 season with a South Group 4 Regional Championship. He rushed for 1,901 yards on 229 carries and found the endzone 23 times. Allen is committed to Syracuse University.
JSZ's Mike Frankel has the profile:
---
Tommy Amankwaa, Hillsborough ATH
Tommy Amankwaa was one of the most improved players in the entire state of New Jersey from his junior to senior seasons. Amankwaa was a true swiss army knife weapon for the Raiders. On offense, he tallied 99 total touches for 1,726 scrimmage yards and a combined 27 touchdowns as Hillsborough put together a perfect 13-0 season. His red-hot play this season earned him an offer from Rutgers – he verbally committed to the Scarlet Knights soon after.
JSZ's Nery Rodriguez has the profile:
---
Steve Angeli, Bergen Catholic QB
Steve Angeli's legacy at Bergen Catholic is undeniable after a historic season in Oradell. Angeli led the Crusaders to a perfect 12-0 season, a Non-Public A championship, and a top-five national ranking in 2021. The Crusaders' signal-caller brought his game to a new level this season after throwing for 1,709 yards and 15 touchdowns in one of the toughest conferences in the entire country. Angeli, a natural leader and an Under Armour All-American, graduates high school in December and will be enrolled at Notre Dame after the New Year.
JSZ's Jay Cook has the profile:
---
JoJo Bermudez, Cedar Creek WR
A true speedster and the definition of a deep threat, JoJo Bermudez was a game-breaking talent for Cedar Creek in 2021. Bermudez hauled in an unsightly 91 catches for 1,662 yards and 14 touchdowns for the Pirates. Bermudez dominated defensive backfields all season long and helped Cedar Creek to a perfect 13-0 season. His blazing start to the regular season caught the eyes of coaches from Cincinnati, as he is now verbally committed to the Bearcats.
JSZ's Mike Frankel has the profile:
---
Alex Brown, Red Bank Catholic QB
Alex Brown's story throughout the 2021 postseason is well documented and will be talked about for years to come on Broad Street. Following the death of his mother, Brown delivered 12 touchdowns and no turnovers in the Caseys' three-game playoff run to win the Non-Public B championship. The Bucknell commit ultimately threw for 1,817 yards and 22 touchdown passes with 519 rushing yards and 10 touchdown runs in his lone season at Red Bank Catholic.
JSZ's Rich Chrampanis has the profile:
---
Davison Igbinosun, Union ATH
There are no arguments here: Davison Igbinosun is one of the most dynamic players in the entire state of New Jersey. Igbinosun was a hawking defensive back and a devastating weapon on offense for the Farmers in his final high school year. He was the top receiver and rusher for the Farmers' offense and notched 74 tackles and three interceptions on defense. Union's season had an unceremonious ending, but that doesn't take away from the impact he had in a 9-2 season in Union County.
---
Q'yaier Price, DePaul Catholic DE
One of the state's most unblockable defensive forces finished off a senior season with some eye-popping numbers. Price compiled 35.5 tackles for loss and 14.5 sacks for the 9-3 Spartans in 2021. He led the way for a defense that didn't allow a touchdown for a five-game stretch at the beginning of the season and who eventually made it to the Non-Public B title game. Price flipped commitments from Syracuse to Rutgers after emerging as one of New Jersey's top edge defender talents during the 2021 season.
JSZ's Jay Cook has the profile:
---
2021 JSZ Football Plays of the Year
The top plays captured by JSZ cameras were on display each week for the Top Play Belt. Our year-end plays of the year featured six winners that went head to head for the final Top Play Belt of the 2021 season:
---