Shore Sports Zone has all the highlights and extended post-game reaction of Matawan's 27-7 win over Carteret at Kean University to win the Central Jersey Group 3 championship
UNION, NJ – Freshman quarterback George "LC" Pearson threw four touchdown passes in cold and wet conditions at Kean Univerity to lead the Matawan Huskies to a 27-7 win over Carteret to claim the Central Jersey Group 3 championship.  Pearson was 10-14 for 198 yards with 4 touchdowns and an interception.  A DeJohn Rogers interception thwarted Carteret's opening drive at the six yard line.  Rogers would have a big gain on a slant to set up the Huskies first TD.  Pearson threw in traffic to the end zone and a ball deflecting off a defensive back landed in the hands of Jimmy Pierce.  The 32-yard TD made it 6-0.  Carteret took the lead on a Ra'Keem Bennett 18 yard TD run, but Matawan would take the lead for good on Pearson's 17 yard TD to Justin Ferrara.  Adam Elliot missed a 28 yard field goal hitting the crossbar at the end of the first half.  But Matawan's defense held Carteret at bay in the second half and Shawn Ramcheran scored on two short shovel passes from Pearson.
Matawan started the season 0-2, but bounced back to claim its first sectional title since 2011.
SCORING SUMMARY
Matawan 27 Carteret 7
1st quarter – LC Pearson 32 yard TD pass to Jimmy Pierce (6-0 Matawan)
2nd quarter – Ra'keem Bennett 18 yard TD run (7-6 Carteret)
2nd quarter – Pearson 17 yard TD pass to Justin Ferrara (13-7 Matawan)
4th quarter – Pearson 9 yard TD pass to Shawn Ramcheran (20-7 Matawan)
4th quarter – Pearson 32 yard TD pass to Ramcheran (27-7 Matawan)
STATE CHAMPIONSHIP SCOREBOARD
We'll keep you updated all weekend long at SSZ and post highlights and post-game reaction from every game involving Shore Conference teams
[table id=50 /]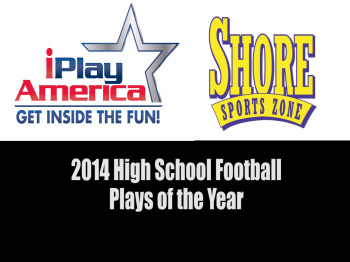 Don't forget to vote for the 2014 high school football Plays of the Year.  Six categories featuring the top plays captured by SSZ cameras in 2014!  Winners will receive an invite to our first annual SSZ All-Zone football banquet on December 16th at IPlay America in Freehold.  Click HERE to see all the nominees and cast your vote – ballots stay open until this Wednesday.