SSZ has highlights and post-game reaction of Middletown North's Dowd Cup win over RFH and the Southern Regional Rams holding off Middletown South to win the Dowd Cup
Middletown North 7 Rumson-Fair Haven 5 – Handchen Cup Finals
WALL – The Lions built a 5-1 lead in the second period, but had to hold off a valiant effort from RFH to claim the Handchen Cup.  Sparked by back to back shorthanded goals 22 seconds apart, Middletown North took a 4-1 lead after one period and led 5-1 after Bobby Hampton's second goal of the night, but RFH scored four straight to draw even.  Conor Deverin scored two straight goals in the third period to tie the game at 5.  But Vincent Tomasetti finished a great feed from Hampton and Khristian Acosta blasted what proved to be the game winner.  Robbie Garavente had three goals for RFH, who's season comes to an end due to being ineligible for the state playoffs.  Hampton had 2 goals and 2 assists, while Acosta added a goal and three helpers: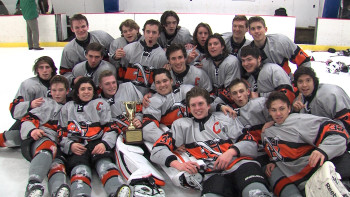 Southern Regional 5 Middletown South 4 – Dowd Cup Finals
WALL – Jack Conrad's goal early in the third period proved to be the difference as Southern Regional was able to hold off a late charge by the Eagles.  Middletown South got a pair of first period goals by Gavin Gulash to take a 2-1 lead after one period, but Southern dominated the second scoring three straight including a pair from Nick Godfrey to take a 4-2 lead.  Conrad's goal in the first 30 seconds of the third made it a 5-2 game.  The Eagles put on the pressure and got within 5-4, but fell short as the Rams claim their first ever Shore Conference ice title: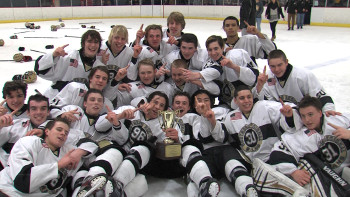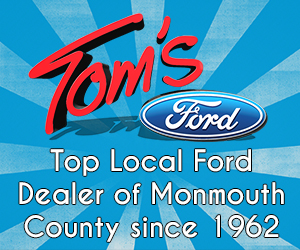 Thanks to Tom's Ford for sponsoring Middletown North and Middletown South.  They are the reason we went to the Shore Conference hockey finals and will continue to bring you great Lions and Eagles coverage all season long!