Jersey Sports Zone looks back on the top viewed moments from the 2017-18 wrestling season.  From nationally ranked duals to the drama of Atlantic City, here's our Top 10 list:
#10: Point Pleasant Boro 35 Jackson Memorial 16
Point Pleasant Boro honored its 50th season as a wrestling program by bringing back some of the school's all-time greats and the current Panthers did not disappoint winning nine matches against a Jaguars team that won a sectional title last year.  JSZ's Jay Cook was in Point Pleasant and breaks down the Panthers and Jaguars on the mat:
#9: High Point 35 Raritan 25 – Group 2 State Championship
It was all Raritan early on.. the Shore Conference School won 4 out of the first 6 bouts, including pins by Anthony Aquilano and George Burdick, helping the Rockets race out to a 25-6 lead. Everything changed when High Point's Thomas Hubmaster won his heavyweight bout and fired up his Wildcat teammates. High Point won the final six bouts to come away with a 30-25 win over Raritan and complete a miraculous comeback to capture the Group-2 State Championship.
#8: Delbarton wins two state wrestling titles in Atlantic City
The Green Wave once again grabbed highlights on NJ high school wrestling's ultimate stage.  Watch JSZ's recap of Patrick Glory and Anthony Clark winning individual state titles:
#7: Saint John Vianney 31 Raritan 29
The Raritan Rockets had won seven straight Shore Conference "A" Central divisional crowns, but the tide turned in 2017-18.  Saint John Vianney held off a late Rockets surge to score a 31-29 win at the Launch Pad in one of the biggest regular season wins in SJV wrestling history.  The Lancers put together six straight wins highlighted by a pin from freshman Dean Peterson at 113 pounds to take a 31-7 lead.  Peterson's pin and a tech fall by Joseph Butler at 106 pounds gave SJV enough back points to give them the edge over Raritan.  The Rockets won the final five matches but needed a pinfall in the final two bouts to pull off a win.  When freshman Blake Clayton stayed off his back in a 4-0 loss, the St. John Vianney bench erupted to celebrate a signature win.  Watch some great Shore Conference action from the Launch Pad:
#6: Long Branch 30 Brick Memorial 29 – Central Jersey Group 4 Finals
Daniel Santos-Silva scored a dramatic two-point takedown with 10 seconds to go in the 3rd period of the final match of the night to give Long Branch a thrilling one-point win over the Mustangs.  Santos-Silva was tied with Ron Hopping 1-1 at 182 pounds when he delivered what proved to be the clinching points.  The two teams went back and forth scoring points.  A critical turning point came at 160 pounds when freshman David Szuba scored a 3-2 Ultimate Tiebreaker Win over Luke Arnold to give Brick Memorial a critical three points.  A pin by the Mustangs Ean Mueller at 170 pounds gave Brick Memorial a nine-point swing and a 29-26 lead.  Santos-Silva's win tied the match at 29 and Long Branch won on criteria thanks to an 8-6 edge in overall matches.  Watch the exciting match and the thrilling final moments:
#5: Camden Catholic's Lucas Revano wins 132-pound state wrestling championship
Lucas Revano scored a 4-3 win over Howell's Kyle Slendorn to win the 132 pound state championship in Atlantic City:
#4: Bergen Catholic 63 Camden Catholic 12 – Non-Public "A" State Championship
The Crusaders dominated with seven pinfalls to make it seven straight state titles.  JSZ's Jay Cook has highlights of Bergen Catholic's stellar effort in Toms River:
#3: Blair Academy 49 Delbarton 7
The Delbarton Green Waves were ranked #2 in the state polls when they faced Blair Academy, but the Buccaneers were the #1 ranked wrestling program in the nation. The only pin of the night came by Blair's Owen Trephan who sunk the pin on Liam Gray in 1 minute and 16 seconds at 285 pounds. Patrick Glory and Travis Tavoso scored wins for the Green Wave.   Look back on Blair's outstanding effort during the regular season:
#2: Three Bergen Catholic wrestlers win state titles in Atlantic City
It was no surprise to see the Crusaders shine individually in AC.
120: Robert Howard (Bergen Catholic) def. Mitchell Polito (East Brunswick) 5-2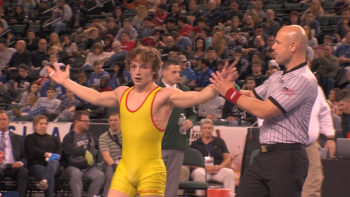 160: Shane Griffith (Bergen Catholic) def. Rob Kanniard (Wall) 6-1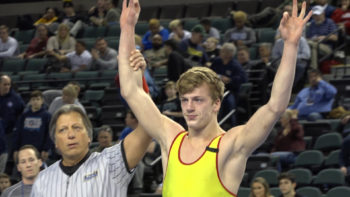 195: Jacob Cardenas (Bergen Catholic) md. Sam Wustefeld (Scotch Plains-Fanwood) 10-2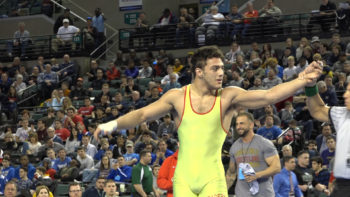 Watch JSZ's recap of the three Crusaders state titles:
#1: Bergen Catholic 33 Blair Academy 19 – Who's Number 1 Duals
The Crusaders reign supreme.
In front of a capacity home crowd in Oradell, Bergen Catholic's wrestling team defeated Blair Academy, 33-19, in the finale of The Who's #1 Duals, cementing the Crusaders easily as the top high school wrestling team in the United States. Flowrestling had Blair Academy ranked #1 nationally and Bergen Catholic ranked #2 nationally coming into the day. Bergen Catholic was powered to victory over the Bucs by a pair of pins — Dylan Weaver (126) at 1:32 in the first period and Christopher Foca (170) at 5:35 in the 3rd period. The Crusaders won nine out of 14 bouts during the match. BC's head coach Dave Bell said it was his first win against Blair in 19 years at Bergen Catholic. The Crusaders also defeated #7 Buchanan (California), 34-24, and #6 Lake Highland Prep (Florida), 41-22, earlier in the day.
Watch the highlights and post-match reaction from JSZ's Jay Cook: