Joe Weinstein made a key save in overtime and two stops in penalty kicks to give Jackson Memorial a 4-2 win over Raritan in the first round of the Shore Conference boys soccer tournament. We've got all the highlights and post-match reaction from a great game as well as all the first round scores and second round matchups
Jackson Memorial 2 Raritan 2 (Jags win on PKs 4-2)
Jaguars freshman goalkeeper Joe Weinstein made a key save in overtime and stopped two Rockets penalty kicks to get Jackson Memorial through to the second round of the Shore Conference Tournament.  Peter Amato had a sensational goal from 31 yards out to give Raritan a 1-0 halftime lead.  In the final ten minutes of regulation, three goals were scored.  Mike Schoener and Dan Russo scored less than two minutes apart to give the Jaguars a 2-1 lead with seven minutes to go, but Scott Larson forced overtime as he put home a rebound to tie the game at two with just under four minutes to go.  Weinstein stopped Jake Fortune from point blank range in the second overtime period and made two outstanding stops in penalty kicks.  Watch all the great highlights here:
SCT Boys Soccer First Round Scores
(19) Jackson Memorial 2  (14) Raritan 2 (Jags win 4-2 on PKs)
(12) Central 0 (21) Lakewood 0 (Eagles win 5-3 on PKs)
(11) Point Pleasant Boro 2  (22) Saint Rose 0
(16) Colts Neck 2  (17) Southern Regional 1 (OT)
(10) Asbury Park 1  (23) Donovan Catholic 1 (Bishops win 6-5 on PKs)
(15) Pinelands 5  (18) Shore Regional 0
(20) Holmdel 2 (13) Manasquan 2 (Hornets win 3-1 on PKs)
(9) Wall 8  (24) Ranney 2
SCT Boys Soccer Second Round Matchups – Saturday
(16) Colts Neck at (1) CBA
(15) Pinelands at (2) Marlboro
(19) Jackson Memorial at (3) Toms River South
(20) Holmdel at (4) Ocean Township
(12) Central Regional at (5) Toms River North
(11) Point Pleasant Boro at (6) Freehold Township
(10) Asbury Park at (7) Middletown North
(9) Wall at (8) Matawan
Sponsor Shout Out!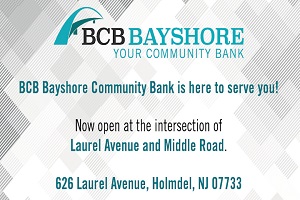 Thanks to Bayshore Community Bank for sponsoring our Raritan Rockets coverage this year on Shore Sports Zone.  Because of BCB, we will capture many more great Rockets games throughout the year in all varsity sports!
We need a Jackson Memorial sponsor!
Jags fans – if you enjoyed the highlights of this awesome win by the boys soccer team and want to see more football, basketball, hockey, wrestling and baseball this year, we need a sponsor for our Jackson Memorial coverage on SSZ.  What games we shoot every day is dictated by our local sponsors.  Without sponsors, Shore Sports Zone doesn't exist!  Please contact rich@shoresportszone.com if you know a local business that can support us and bring more great moments to Jackson Memorial athletics.