The iPlay America Game of the Week did not disappoint.  Watch highlights of two great teams on the ice as Donovan Catholic comes back from three goals down to beat Saint Rose 7-6
WALL – JC Maroukis fired a wrist shot with two minutes to go in the third period to give Donovan Catholic a come from behind 7-6 win at the Jersey Shore Arena over Saint Rose in Shore Sports Zone's iPlay America Game of the Week.  The Frozen Roses, who honored eight seniors in their final home game, raced out to a 3-0 lead.  Alex Phipps had a hat trick – his third goal of the game made it 4-1 Saint Rose.  But the Griffins closed to within 5-4 before Ryan O'Malley's second goal of the game with 20 seconds remaining in the second period made it a 6-4 Purple Roses advantage.  But the Griffins outscored Saint Rose 3-0 in the third.   Matt Drake, Jacob Loser and Maroukis came through to the light the lamp in the final fifteen minutes.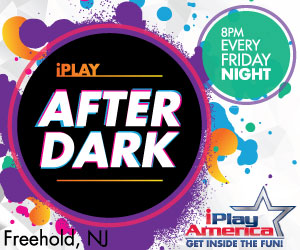 Shore Sports Zone thanks iPlayAmerica for teaming up with us to support high school athletics on the Jersey Shore.  Every Tuesday afternoon, we post the top matchups for the upcoming weekend in basketball and hockey.  Fans cast their vote for two days to see where SSZ will bring extended highlights, post-game reaction and T-Shirts to fans.