Will Lemonie scored two goals as Saint Rose raced out to a 4-0 lead, but had to hang on for a 4-3 win over Wall.  Watch highlights of a great game from Jersey Shore Arena in Wall
Saint Rose 4 Wall 3
The Frozen Roses raced out to a 4-0 lead at Jersey Shore Arena and held off a late Wall surge to pick up an upset victory.  Mike Russ and Will Lemonie scored goals 31 seconds apart to give Saint Rose a 2-0 lead at the end of one period.  Alex Phipps made it a 3-0 Roses lead and Lemonie added his second goal off a marvelous give and go with Sean Grant.  Wall stormed back starting with a goal by Nick Casais in the second period.  In the third period,  Larry Hooper and Thomas Falletta scored, but Steven Gibilisco was able to hold off a late power play to secure the win with 22 saves.  Watch highlights from a great game on Friday night:
Textor Wins Avon Pond Game Puck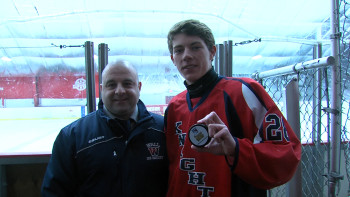 Prior to the game, SSZ presented Wall's Jack Textor with an Avon Pond Game Puck for his game winning goal against Red Bank Catholic on January 13th.  Coming up this Sunday, we'll have more nominees for Top Performer from this week in Shore Conference hockey.  Thanks to Avon Pond for allowing us to honor great hockey performances!