Holmdel 7 Ocean Township 1
Anthony Arena set a Shore Conference Tournament championship game record with five goals and Justin McStay had two goals and three assists to give the Hornets their first ever SCT crown.  Ocean Township, who came into the game with a 13-0-1 mark in its last 14 games, was able to strike first thanks to a header from Steve Carton in the third minute.  Arena started his stellar performance by blasting a clearing attempt for his first goal of the game.  The tide shifted in the final 1:30 of the first half as Mikey Neff launched a long pass down the left wing.  Arena settled and navigated a shot by three defenders and the keeper to give the Hornets a 2-1 halftime lead.  In the first :32 seconds of the second half, McStay threaded a perfect pass to Arena who got goal number three.  From there, the floodgates opened as McStay scored the first of his two goals followed by two more Arena goals.  Arena now has 29 goals and 21 assists on the season.  JSZ has all the highlights and post-game reaction from the Hornets historic win:
Sponsor Shout Out!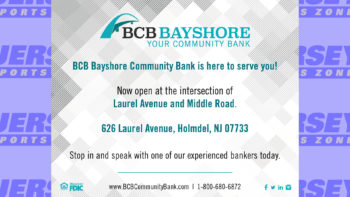 BCB-Bayshore is the sponsor of our Holmdel Hornets coverage on Jersey Sports Zone.  BCB-Bayshore is the reason we were able to capture the incredible moments from Holmdel's first ever Shore Conference boys soccer championship!