Anthony Cucich scored two first period goals as CBA raced out to a 4-0 lead on Middletown North, before the Lions scored three straight goals in the third period.  The Colts hung on for a 4-3 win in the battle of Shore Conference state champs.  SSZ has highlights and post-game reaction from a great game!
CBA 4 Middletown North 3
It looked like a CBA rout early as Anthony Cucich scored twice in the first period and Cristian Winters goal early in the third period made it a 4-0 Colts advantage.  But the Lions roared back with goals from Division I commitments Khristian Acosta and Bobby Hampton followed by a Kevin Felice tally late in the third.  Michael Cernero was able to make a key save in the final minute to preserve the CBA win.  Watch all the great highlights and post-game reaction:
Is this our last CBA hockey game on SSZ?
We hope not!  We are seeking a sponsor for our CBA coverage.  A local business can pledge their support and get their ad in front of our strong and loyal audience.  With CBA hoops and an incredible baseball season ahead, we are hoping to find a business that wants to support high definition highlights and features on the Colts all year long.  Contact rich@shoresportszone.com if you know of a local business that wants to  sponsor our CBA coverage.
Sponsor Shout Out!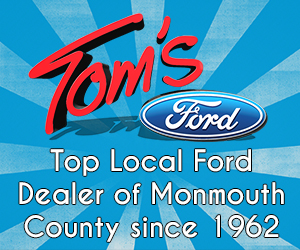 Thanks to Tom's Ford for sponsoring our Middletown North coverage.  Thanks to Tom's Ford we'll be at many more Lions ice hockey games at Middletown Ice World and throughout the post-season!