Red Bank Catholic made ten three-pointers and played stellar defense to top IHA 55-41 to win the Non-Public "A" state championship on Saturday at Pine Belt Arena in Toms River.  SSZ has full coverage of the Caseys 8th state championship
Red Bank Catholic 55 Immaculate Heart Academy 41
RBC sank ten three-pointers from five different players and played outstanding defense to score a 14 point win over IHA in the Non-Public "A" state championship.  Katie Rice scored 8 of her 18 points in the 4th quarter and Josie Larkins added 14.  The Caseys used a 10-0 run to close out the first quarter and take a 19-9 lead.  IHA never got closer than six points as RBC was able to dictate the game with their defense and the ability to find open shooters beyond the arc.  It's the 8th state championship for the Caseys and the first since 2013.  RBC will move on to the Tournament of Champions next week.  Watch the highlights of RBC's 27th win of the season:
Selfless senior duo helps RBC win it all
Tia Montagne (center) and Maureen Coakley (14) do the little things that make a championship team.  Watch our feature on the duo who played a key role in the championship win: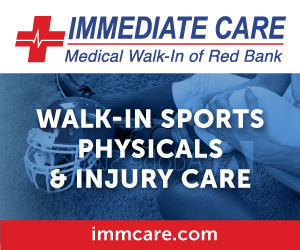 SSZ would not be able to capture great moments like RBC's state championship without sponsors.  Thanks to Immediate Care Medical-Walk In of Red Bank for sponsoring our Red Bank Catholic coverage all year long and we'll be able to track the Caseys in the Tournament of Champions because of their support!