The Brick Township boys and girls basketball teams did a free throw fundraiser to help the family of one of their own.  See the story of how they came together in this edition of the WindMill Winners Circle
The Brick Township boys and girls basketball teams took to the free throw line to raise money for the family of freshman player Maggie Dougard, who's younger brother Matthew is currently fighting leukemia.  The Dragons are approaching $4000 raised and the WindMill treated both teams to lunch at their Brick location.  Coach Mike Gawronski's Brick boys are in the playoffs as the #11 seed in the Central Jersey Group 3 bracket.  The Green Dragons travel to Moorestown on Monday.  Watch our feature to see how the Green Dragons came together to help one of their own.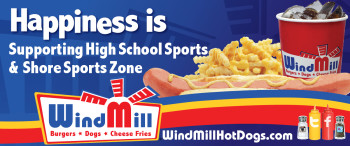 The WindMill Winners Circle spotlights teams that are doing great things on and off the field.  Check out our other WindMill Winners Circle profiles.  If you have a team that's doing something great to help the community, email rich@shoresportszone.com so we can consider them for our WindMill Winners Circle series!
Thanks to the WindMill for allowing us to recognize great community work by Shore Conference high school sports teams.  Please go to WindMill and have a hot dog to thank them for supporting Shore Sports Zone!