Howell's Mark Buannic delivers a must see behind the back goal in the Shore Lacrosse Coaches All-Star Game.  Howell had a trio of players shine among the top seniors.  Watch the highlights and post-game reaction
North Beats South 11-7
Three Howell Rebels scored 7 of the North's 11 tallies in the Shore Lacrosse Coaches All-Star Game at Ocean Township High School.  Mark Buannic and Jake Sherman each scored three goals and Zack Ornstein was named MVP scoring a goal and doing great work on faceoffs.  Buannic scored a tremendous behind the back goal which needs to be slowed down to appreciate the skill:
Here's a recap of the entire game, with post-game reaction from the Howell Rebels:
North Goal Scorers
Mark Buannic, Howell (3)
Jake Sherman, Howell (3)
Zack Ornstein, Howell (1)
Lucas Seckler, Rumson-Fair Haven (1)
Tim Barile, Red Bank Catholic (1)
Nick Gazzillo, CBA (1)
Brandon Nunez, Freehold Township (1)
South Goal Scorers
Dylan Jinks, Southern (4)
Chris Smith, Southern (1)
Matt Frost, Saint Rose (1)
Troy Wolf, Jackson Memorial (1)
Sponsor Shout Out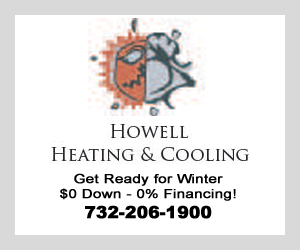 Thanks to Howell Heating and Cooling for sponsoring our coverage of the Rebels in 2015!  Their support allowed us to cover so many great moments from the Howell sports season from the state finals in hockey to a great boys lacrosse season.