Another summer means more New Jersey natives are headed to Major League Baseball. JSZ will have you covered as the 2023 MLB Draft unfolds from Sunday night all the way through Tuesday afternoon.
---
Round 1, No. 14 overall: C Kyle Teel, Boston Red Sox (Virginia, Mahwah High School)
Teel concluded a masterful senior season with the 'Hoos that saw him named a consensus first-team All-American, the ACC Player of the Year, the Buster Posey Collegiate Catcher of the Year and the Johnny Bench NCAA Catcher of the Year. Starring behind the plate, Teel started 65 games and batted .407 on the season. Teel was born and raised in Mahwah and played two varsity seasons for the Thunderbirds, missing his senior season due to COVID-related shutdowns.
---
Round 2, No. 41 overall: OF Ryan Lasko, Oakland Athletics (Rutgers, Jackson Memorial HS)
Lasko's big bat was his calling card during his high school days in Ocean County all the way through his college career in New Brunswick. Lasko batted .330 with 11 home runs for the Scarlet Knights over his junior season with Rutgers. Lasko was on the big stage in high school when he led the Jaguars to the 2020 Last Dance World Series championship game.  Lasko is the highest Rutgers draft pick since Todd Frazier and the highest Jackson Memorial draft pick since Matt Thaiss who is currently the LA Angels starting catcher.  Check out Lasko's high school highlights from the Jaguars:
---
Round 3, No. 72 overall: RHP Steven Echavarria, Oakland Athletics (Millburn HS)
The New Jersey Gatorade Player of the Year brought some serious heat and some dominant "stuff" to the mound in 2023 for Millburn. Echavarria pitched 50 innings, struck out 80 batters and doused opposing offenses with a minuscule 0.28 ERA. Echavarria paired an electric fastball that was clocked as high as 95+ miles per hour this spring with a wipeout slider. Echavarria, who was committed to Florida, made a massive jump physically from his junior to senior season.
---
Round 5, No. 140 overall: RHP Patrick Reilly, Pittsburgh Pirates (Vanderbilt, CBA)
Former CBA ace Patrick Reilly, who became a valuable reliever at Vanderbilt University heard his name called with the third pick of the fifth round.  Reilly has a fastball that tops out at 98 miles per hour and graduated from CBA in 2020 followed by three years in the SEC with the Commodores:
---
Round 6, No. 177 overall: SS Jay Harry, Minnesota Twins (Penn State, Metuchen HS)
Jay Harry was a model of consistency during his collegiate career at Penn State. The shortstop started all 50 games for the Nittany Lions throughout the 2023 season while leading the clubs in hits (60) and doubles (13). He batted .299 and slugged .463, putting him on the radar for MLB Draft scouts. Harry was an integral piece to the Metuchen HS squad during his high school days and batted .455 in his junior season, which would ultimately be his last prep year due to COVID-related shutdowns. JSZ spoke with Harry at the 2019 Underclassmen Games at Diamond Nation following his monster junior season:
---
Round 7, No. 211 overall: RHP Teddy Sharkey, Baltimore Orioles (Coastal Carolina, Wall HS)
Sharkey teamed with Houston Astros minor leaguer Trey Dombroski to lead Wall to the 2019 state championship.  In addition to being part of the Crimson Knights pitching staff, Sharkey was the centerfielder and a big bat for the state champs.  Sharkey went on to become one of college baseball's top relievers with Coastal Carolina.  The right-hander truck out 74 in 49.2 IP this season with the Chanticleers and touches 98 miles per hour on the radar gun.
---
Round 8, No. 233 overall: RHP Nick Maldonado, Miami Marlins (Vanderbilt, Seton Hall Prep)
Maldonado made a name in college baseball as one of the most ferocious bullpen arms in the country. He logged a 40:7 strikeout to walk ratio this past season while also collecting eight saves with a 1.45 ERA. Maldonado was a two-way threat during his high school days at Seton Hall Prep, although he missed the majority of his senior prep season due to injury.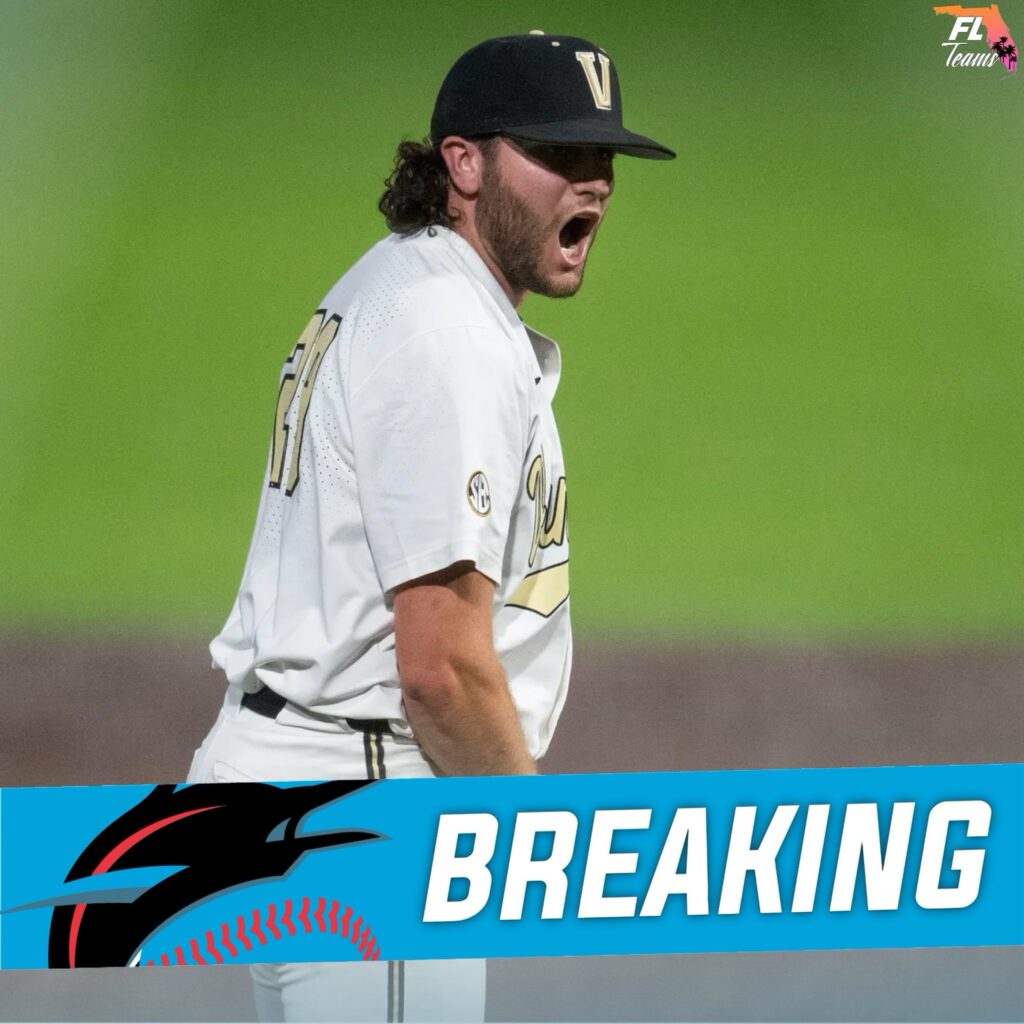 ---
Round 10, No. 303 overall: RHP Adam Boucher, Tampa Bay Rays (Duke, St. Joseph Metuchen)
Adam Boucher may have lost his senior baseball season at St. Joseph (Metuchen) due to a global pandemic, but that did not stop the six foot five right handed pitcher from earning a spot to play in the ACC for Duke. Boucher appeared in 29 games for the Blue Devils during his junior campaign, finishing with 59 strike outs in 40 innings. On the second day of the 2023 MLB Draft, Adam Boucher received the news he was selected 303rd overall in the 10th Round by the Tampa Bay Rays. Check out his Last Dance (2020) highlight reel:
---
Round 10, No. 289 overall: INF Justin Johnson, Kansas City Royals (Wake Forest, North Hunterdon)
North Hunterdon 2018 graduate Justin Johnson is on his way to the Kansas City Royals organization after a tremendous season at Wake Forest that saw the Demon Deacons reach Omaha and advance all the way to the national championship series.  Johnson was the MVP of the Winston-Salem Regional and hit .324 with 16 homers and 76 RBI's.  His slot value at 289 is $170,600.

---
Round 10, No. 312 overall: RHP Brian Hendry, New York Yankees (Oklahoma State, Shawnee)
Brian Hendry overcame injury in his senior season at Shawnee to reach Oklahoma State and the right-hander is now in the New York Yankees farm system after being selected by the Bronx Bombers in the 10th round, #312 overall.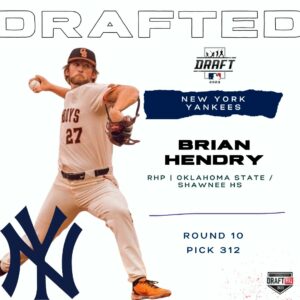 ---
Round 11, No. 316 overall: RHP Drew Conover, Oakland A's (Rutgers, Voorhees)
The Oakland A's made it three NJ draftees when they selected Rutgers pitcher Drew Conover early on day three.  Conover went 5-4 with a 4.50 ERA for the Scarlet Knights with 83 strikeouts and an opponent's batting average of .197.  Conover will join Rutgers teammate Ryan Lasko (2nd round pick) and Millburn's Steven Echavarria (3rd round pick) as A's minor leaguers.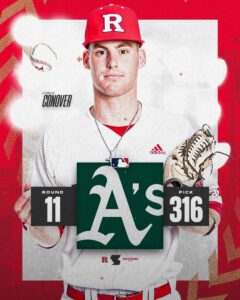 ---
Round 13, No. 386 overall: RHP Sam Armstrong, Chicago Cubs (Old Dominion, High Point)
Sam Armstrong went from High Point to the County College of Morris before landing at Old Dominion where the starter molded himself into a MLB prospect.  He's a 2019 graduate of High Point.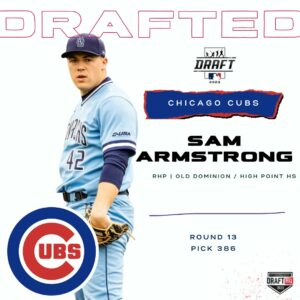 ---
Round 13, No. 392 overall: RHP Brett Wichrowski, Milwaukee Brewers (Bryant, Williamstown)
Williamstown's Brett Wichrrowski who went from South Jersey to Rhode Island and Bryant is on his way to the Milwaukee Brewers organziation after being selected in the 13th round.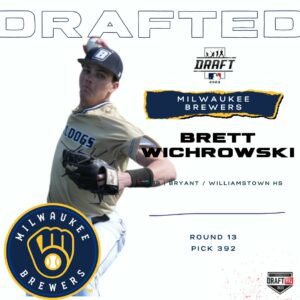 ---
Round 13, No. 396 overall: RHP Ben Simon, New York Mets (Elon, Hightstown)
Ben Simon was a 2020 graduate of Highstown High School and went on to become a reliever in North Carolina at Elon where he had 7 saves this season.  Simon became the 14th New Jersey product to hear his name called in the 2023 MLB Draft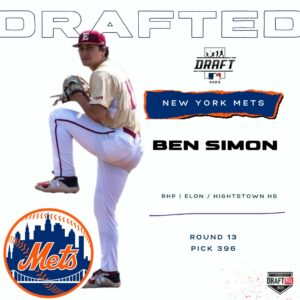 ---